Welcome to my second car blog. In this blog I'll try to narrate the story of acquiring and modifying a vehicle, with some discussion of my thinking and reasons behind the modifications, as well as results and opinions about how things work out.
A couple of people have asked me why we purchased this car instead of something closer to our traditional customer base. We haven't traditionally worked with or offered parts for BMWs, and people expected we might get a Subaru WRX or STI sedan. I decided on the 335i for a couple of reasons. One is that we already have a
2008 WRX STI
, and having a second one wouldn't really offer that much incremental learning. Another reason is that we already have a pretty large network of parts suppliers that offer BMW parts, since we've been selling parts for the MINI Cooper for the last four years. That means offering parts for the BMW won't be as difficult as if we were starting from scratch. Finally, I have always had a soft spot for the BMW inline six motor. A turbocharged version is just too good to pass up -- tuning turbo cars is what we do here! So, here's a new car for Mach V Motorsports and a new direction for our parts sales and service.
E90 Background
The current BMW 3-series was introduced in 2005. The chassis codes are E90 through E93, which are sedan, wagon, coupe, and convertibles, respectively. The 2007 model year saw the first twin-turbo version in the U.S. That motor made an even 300 hp and 300 lb-ft of torque.
BMW gave the 3-series a face lift in the 2009 model year. The newer-styled cars are referred to as "LCI" models. LCI is an acronym for "Life Cycle Impulse," which seems to be goofy BMW marketing-speak for "face lift." The Mach V 335i is a 2009 LCI model.
Acquiring our 335i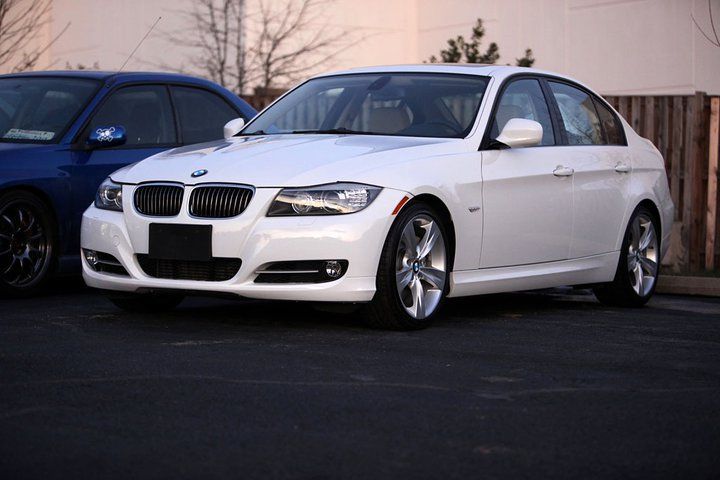 After narrowing down what model and year we wanted, we shopped around a bit and ended up buying through
eImports4Less
in Perkasie, PA. The car had just come off lease and was very clean, with the options we wanted. We exchanged a few emails and photos, and came to an agreement, and the car was trucked right down to our shop.
The car came with the Sport Package (sports suspension, five-spoke wheels and performance run-flat tires, sport steering wheel with shifter paddles), a six-speed automatic transmission -- which only weighs eleven pounds more than the manual, I'm told -- and some other options that I don't care too much about. I must admit, though, that since we've had a very cold December, I do find myself using the heated steering wheel (!) more often than I would have imagined.
I'll talk about our plans for modifying the car in my next blog post.